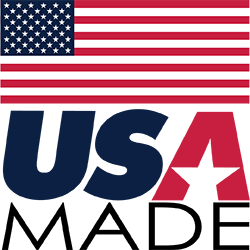 Now Displaying: with Foil Hot Stamp imprint
Pricing
in USD
150
250
500
1000
3000
$

1.64

$

1.20

$

1.14

$

1.08

$

1.02

A
Column price is per bag, and includes a 1 color/ 1 side foil imprint. Plate charges are additional.
Description
Gloss paper shopper with serrated cut top and twisted kraft paper handles.
Features
Dimensions: 7 ¾W x 4 ¾ x 9 ¾H
Imprint Area: 5W X 4H
Eco Data: 100% recyclable
Additional Charges
Set-Up Charge
$80.00 (G) per color, per design
Additional Location
$0.35 (G) per bag
Additional Color
$0.35 (G) per color, per side, per bag
Broken Box Charge
$10.00 (G) - Plain bags only
Imprint Colors
Please note: Pantone® (PMS) color match not available. The color samples in our color chart represent foil printed on white bags.
Some foil colors, when printed on a colored bag, may appear lighter, darker, or a slightly different hue. Some foil colors may not be suitable for imprinting on select bag styles. Please call for details. Swatches shown in color chart are for approximate color representation only.
Services
Production Time
4 business days after all final approvals
3 business days after all final approvals
Rush: View Chart
---

Freight Estimator
Box Quantity: 250
Box Weight: 19 lbs
Box Dimensions: 14H x 17 x 14W
Package dimensions are for the quantity and weight outlined above. Other dimensions for broken-box quantities may apply.

FOB: Union, IL, 60180. Freight charges quoted are commercial rates. Rates are for US and Canada only. Rates to residential addresses will be higher. Your actual invoice may vary from the displayed estimated rates. Rates shown online will not be honored in billing disputes as packaging may deviate from defaults used in quoting. Call for a more precise quote. The use of a third party account number also invalidates the results shown. UPS, the UPS brand mark and the Color Brown are trademarks of United Parcel Service of America, Inc. All Rights Reserved.